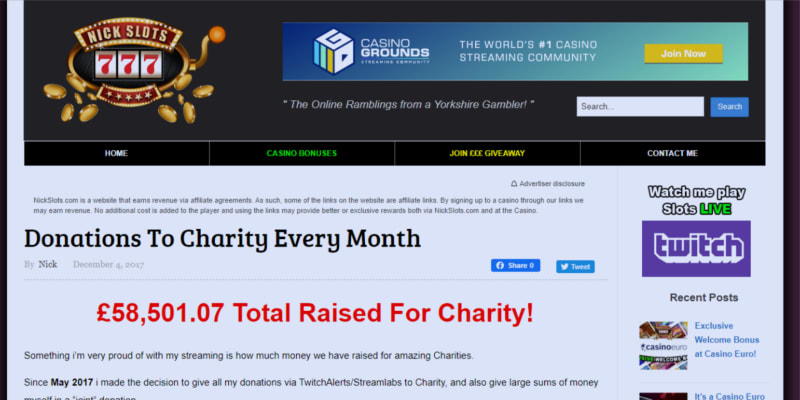 Nickslots Charity Donations
Nickslots is a very renowned and popular streamer for CasinoGrounds as well as on Twitch, and Youtube. In 2017, he decided to start donating all of his donations which he receives via Twitch to Charity. Not only does he donate his donations but he also gives large sums of money himself in a "joint" donation.
So far, since Nickslots starting making donations to different charities in 2017 he has raised over £58,501.07! Gobsmacking right?! And of course, that comes with the great help of his loyal and trusting followers, so well done to you all!
Since Nickslots started donating money, he has helped multiple different Charities. Just in 2019, he donated more than £17,250 to Charities including; Crohn's and Colitis UK, Alzheimer's Society, Sporting Memories, SANDS Charity, Chestnut Treehouse Children's Hospice and more!
You can keep up to date with his monthly donations by visiting the following link,
We look forward to seeing what 2020 brings. Happy Seasonal greetings and we wish you all a merry new year!
Share with friends on
Email