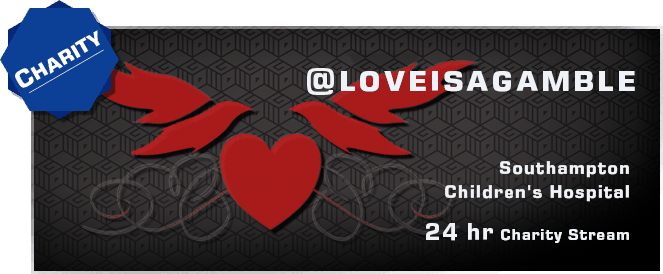 Loveisagamble 24 Hour Charity Stream
Loveisagamble Charity Stream July 2018
This weekend our friends Loveisagamble hosted a 24-hour charity stream to help their good friend and casino regular Rob for Southampton Children's hospital which is the second fundraiser that he collects. Last year he hosted a £2000 fundraiser for Mac Millon Cancer support, in memoriam of Roger's late father who was lost to cancer the year before. In addition to the fundraiser, Roger also ran a Half Marathon for the same reason.
The Stream
This year, we could find Roger lurking in the playhouse, sitting there 24 hours straight (minus a break or two) streaming his casino games, and chatting with the viewers.
"Just a man in a dress, in the playhouse at 3 am in the morning"
Roger was the main host of the stream, but no stream is complete without the missus. We find her helping out in the beginning and during the prize giving moments
For every donation, Nicky spun a wheel of punishment/rewards for Roger.
The stream started up with "Rogers' Torture wheel" with Roger in the playhouse, and Nicky with her friend spinning the wheel from the living room. Roger ended up "winning" some glorious prizes indeed. More about that in the highlight video we'll find later! (That arm-pit wax looked harsh tho').
The Charity
The fundraiser this weekend went to Southampton Children's Hospital, part of the University Hospital Southampton NHS Foundation Trust. This is one of the largest teaching trusts in the UK. Southampton Children's hospital has helped countless children both locally, but also for the surrounding areas like the Island of Wight and the Channel Islands.
At this time, we are happy to see Loveisagamble was able to reach their £2000 goal! A whopping amount of £2328 was collected so far, and the fundraiser is still open, so feel free to join in if you like! The fundraiser is up and running until Friday, 3rd of August.
Stay tuned for more highlights from the stream!
Join our discussion and conversation in the related forum thread here.
Click here for more Community News
Share with friends on
Email