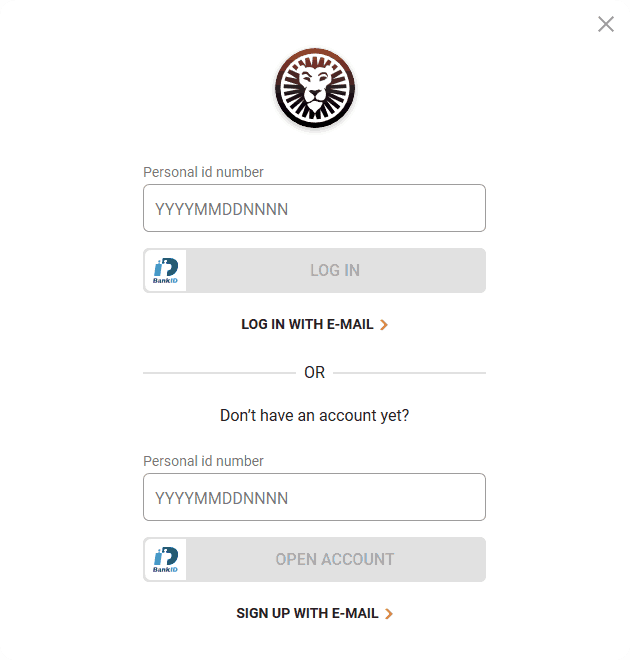 Register with Mobile BankID on LeoVegas Casino
Great news for our Swedish friends nowadays! After the introduction of a local licence in gøtaland, Swedish citizens can now use their online ID "BankID" to register and log in to a selection of online casinos. One of which is LeoVegas
So, what is BankID?
In short, it's a digital ID that anyone with a Swedish citizenship can receive, and is used to log in to most government sites, as well as online banking. The same system is found in the other Nordic countries, called BankID in Norway, and NEMId in Denmark.
Mobile BankID Casino?
In this day and age, everything needs to be convenient, available and instant. Naturally, you will be able to use your bankID to register and log in to your favourite mobile casino.
So, how does this work, and why is bankID in online casinos better?
First of all, if you register, it does not matter if you register on a desktop, or if you choose to register a mobile BankID casino. The process is almost the same anyways.
If you have ever logged into your bank with BankID the process is exactly the same.
Click on the "Log in" button, and the first thing you see is the standard BankID login window, where you enter your personal details. (Just like whenever you log in to your favorite online bank)
Open your BankID mobile app, and follow the instructions there, entering your personal password.
You will be taken back to LeoVegas' mobile casino after a successful login with your bankID.
If it is the first time you log in, you will be presented with a quick registration form, asking for your email address, mobile number, and if you would like to receive promotional emails. That's IT!
Our Conclusion
BankID on casinos creates another level of security for players. In addition, we as users can use this as a clear indication of the integrity of the casino offering this feature. Usually, when adding security measures like these, we tend to see additional steps and not the opposite. After introducing BankID, we only have to enter three things, our unique BankID ID, email address and phone number. Wonderfull. How do you like the introduction to Bank ID on online casinos? Share your thoughts in our forum.
Share with friends on
Email