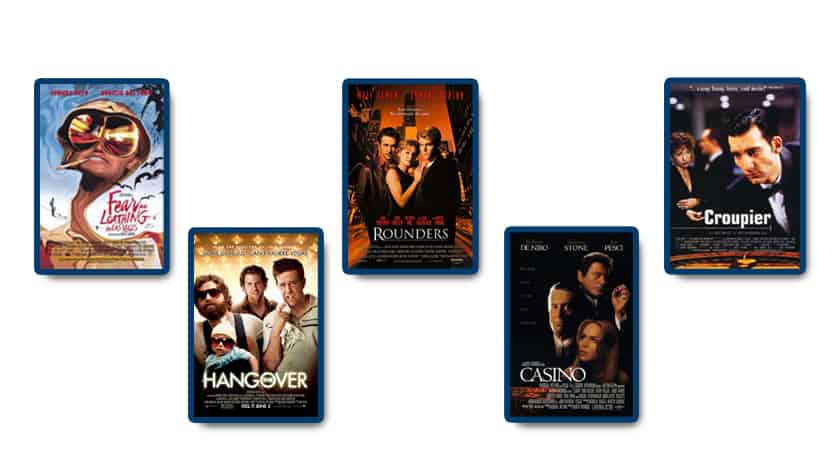 5 Great Casino Movies to Watch This Weekend
Dearest CasinoGrounds community. The weekend is coming up fast, and I hope that you'll simply just chill. In an effort to help you do so, I've compiled a list of 5 great casino movies to watch this (or on a different) weekend.
Call your friends, family, get your loved one(s) and prepare the snacks, drinks, takeaway dinners, or whatever tickles your fancy. Just kick back, and relax while you watch one of these fantastic flicks!

Pssst. We'll do more suggestions like this, so any movies you'd like to see included in this article at a later point, deemed great casino movies- shoot us a message on the forums.
Croupier (2000)
Rotten Tomatoes Score: 98%
IMBd Score: 7.2/10
Actors: Clive Owen, Nick Reding, Nicholas Ball.
Written by Paul Mayersberg, and directed by Mike Hodges, Croupier is a movie going the opposite direction in terms of how casinos are usually portrayed on screen. It's cold and dark, compared to those showcasing big and famous casinos, with neon lights, bright moods and the glamour associated with gambling.
Most popular quotes:
"Hang on tightly, let go lightly."

"Gambling's not about money… Gambling's about not facing reality, ignoring the odds."

"

Now he had become the still center of that spinning wheel of misfortune. The world turned 'round him leaving him miraculously untouched. The croupier had reached his goal. He no longer heard the sound of the ball."
Meet Jack Manfred. He's struggling to make ends meet, so he starts working as a croupier at a casino. His current relationship goes south, while he explores a new relation with a regular patron at the casino he's working at; Jane.

Jane is caught up in a pile of sh** too, so – she approaches Jack. It all boils down to a huge clusterf*** where Jack becomes the inside man of a heist targeting the casino he's working for.

The movie shows you the perspective of the employee working the floor. It's tense, and well worth the 94 minutes you'll spend watching it. A great telltale sign of a movie worth to watch is the critical acclaim garnered both on Rotten Tomatoes and on IMDb.
Fear and Loathing in Las Vegas (1998)
Rotten Tomatoes Score: 89%
IMBd Score: 7.7/10
Actors: Johnny Depp, Benicio Del Toro and Tobey Maguire.

Written by Hunter S. Thompson (book) and Terry Gilliam (screenplay). Directed by Terry Gilliam. Fear and Loathing in Las Vegas is a cult-classic, and a movie that'll take you on a psychedelic adventure like no other.

Most popular quotes:
"A drug person can learn to cope with things like seeing their dead grandmother crawling up their leg with a knife in her teeth. But no one should be asked to handle this trip."

Oh god… did you eat all this acid? That's right! MUSIC!




"There was madness in any direction, at any hour. You could strike sparks anywhere. There was a fantastic universal sense that whatever we were doing was right, that we were winning.
A sports journalist played by Johnny Depp embarks on a 3 day long road trip from Los Angeles to Las Vegas with his lawyer friend who's a Samoan. Fans of the book will love the movie, as Johnny Depp is a fantastic actor who plays a convincing role as the gonzo journalist Hunter S. Thompson.

A red convertible, a sports journalist, a Samoan lawyer, a road trip to Las Vegas, the American Dream, reptiles and psychedelia, heavily marinated in tons of drugs and hefty amounts of alcohol. That's the recipe of a great movie to watch today.
Rounders (1998)
Rotten Tomatoes Score: 87%
IMBd Score: 7.3/10
Actors: Matt Damon, Edward Norton, Gretchen Mol

This movie is a favorite of poker players, and anyone with the slightest interest in Texas Hold'em. We follow the life of Mike McDermot, played by Matt Damon. A law school student who went back to studying after losing all his money to the Russian mob, playing poker. Mike's got a great talent for poker, but walks the narrow path in chase of a normal life, with a girlfriend, and studies.
Most popular quotes:
"First prize at the World Series of Poker is a million bucks. Does it have my name on it? I don't know. But, I'm gonna find out."

"Like my uncle Les used to say "When the money is gone, it's time to move on". So enjoy it, you secret handshaking assholes."


""The game is no limit hold 'em. The Cadillac of poker"
That is until things take a turn for the worse. His childhood friend Worm's released from prison. Worm owes bad people money. A lot of bad people. A lot of money. So, Mike decides to help him by doing what he knows best; playing poker.

Their adventures takes us on a tour of the high stakes underground scene of poker in New York and Atlantic City, and all the weird people they meet along the way. The writers and directors as well as the actors in this movie has done a great job, and thus established this flick as one of the best poker movies of all time.
The Hangover (2009)
Rotten Tomatoes Score: 84%
IMBd Score: 7.7/10
Actors: Zach Galifianakis, Bradley Cooper, Justin Bartha.
Written by Jon Lucas and Scott More and directed by Todd Phillips, The Hangover is an epic comedy of a bachelor party in Las Vegas gone horribly wrong.

Most popular quotes:
Stu:

She's got my grandmother's Holocaust ring!


Alan:

I didn't know they gave out rings at the Holocaust.

Alan:

It says here we should work in teams. Who wants to be my spotter?


Doug:

I don't think you should be doing too much gambling tonight, Alan.


Alan:

Gambling? Who said anything about gambling? It's not gambling when you know you're gonna win. Counting cards is a foolproof system.


Stu:

It's also illegal.


Alan:

It's not illegal. It's frowned upon, like masturbating on an airplane.


Phil:

I'm pretty sure that's illegal too.


Alan:

Yeah, maybe after 9/11, where everybody got so sensitive. Thanks a lot, bin Laden.

Stu:

Why don't we remember a God damn thing from last night?


Phil:

Obviously because we had a great fucking time.



The bachelors wants to throw an unforgettable party for their soon to be married pal. After waking up more hungover than ever before in their suite at Caesar's Palace in Sin City, they find a stray tiger in their bathroom, and a baby in their suite. The groom however, is gone. Totally.

The adventure that follows when the bachelors try to find their friend in Las Vegas is hilarious. The Hangover is full of plots and twists and big chunks of comedy that will have you go "LOL", many, many times.

Casino (2009)
Rotten Tomatoes Score: 93%
IMBd Score: 8.2/10
Actors: Robert De Niro, Sharon Stone, Joe Pesci.
Written by Nicholas Pileggi (book & screenplay) and directed by Martin Scorsese, Casino is perhaps the best of great casino movies of all time. This movie portrays both the glamour and glitter of Las Vegas, as well as the darker sides; brutality, cruelty, gut-wrenching destinies of the unfortunate.

Most popular quotes:
"Listen to me very carefully. There are three ways of doing things around here: the right way, the wrong way, and the way that *I* do it. You understand?
"I lost control? Look at you, you're fucking walking around like John Barrymore! A fucking pink robe and a fucking cigarette holder? I lost control?"
"A lot of holes in the desert, and a lot of problems are buried in those holes. But you gotta do it right. I mean, you gotta have the hole already dug before you show up with a package in the trunk. Otherwise, you're talking about a half-hour to forty-five minutes worth of digging. And who knows who's gonna come along in that time? Pretty soon, you gotta dig a few more holes. You could be there all fuckin' night."
In Casino, two mobsters make their way to Las Vegas and start working there. Martin Scorsese is a critically acclaimed director, who paints a very lively picture of how the mob and the casino industry went hand-in-hand during the 1970-80s.

This is the movie to watch if you want everything or everything. The actors, the setting and the props are so realistic that you're taken back decades in time, only to find mobsters, thugs, romances, drugs and violence – all in limelight of Las Vegas neon lights and glamour.
Enjoy these great casino movies, and chill like never before. Happy weekend!
Share with friends on
Email