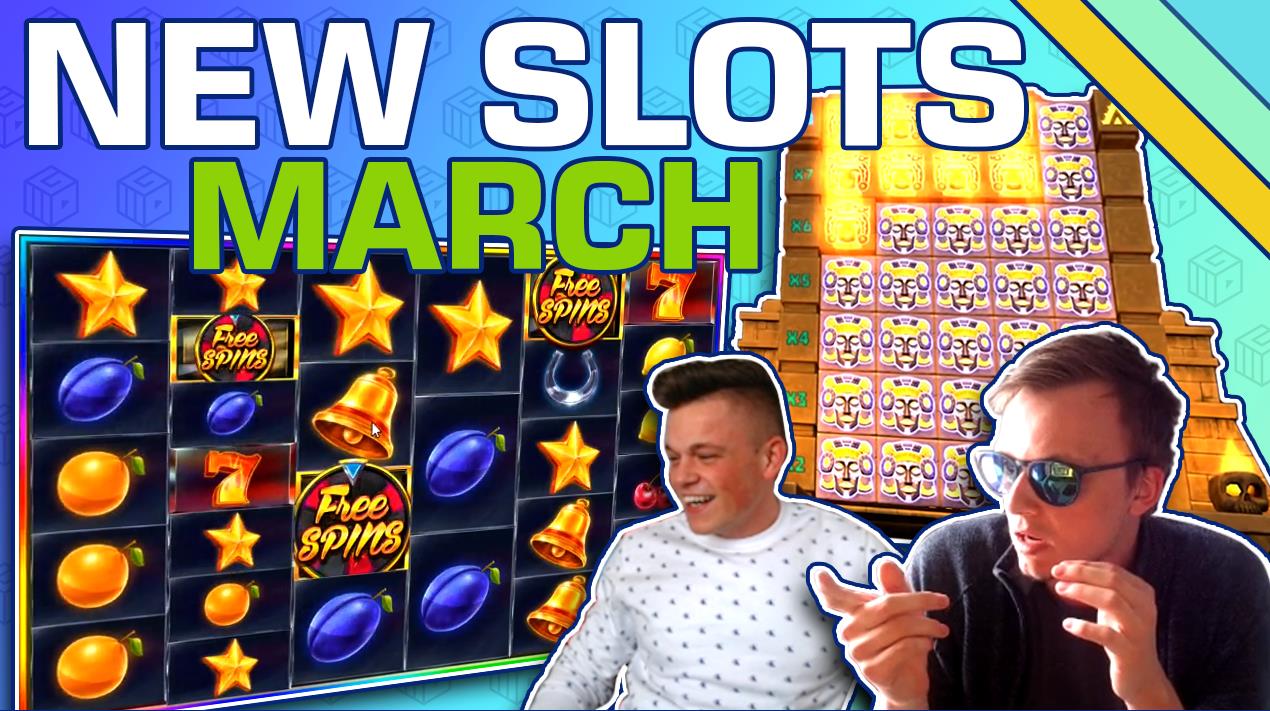 Best New Slots of March 2019
For this video we have put together some of the biggest recorded wins featuring some of your favourite streamers played solely on slots which were released in March of this year. It's hard to believe that these slots haven't even been on general release for two months yet some of them already seem like classics!
Clip 1: David Labowsky – Contact (Play 'n Go)
Netherlands-based slot enthusiast David Labowsky is the star of our first clip playing Play 'n Go's highly volatile Mayan themed slot, Contact, at Rizk Casino. Playing at €5 a spin, we join David as he's on his way to filling up the game's 5×7 grid with winning clusters thus unlocking the top feature – the Super Bonus Round.
Starting with just 6 free spins Labowsky's board quickly starts filling up with winning clusters. As he rockets up the grid he not only unlocks more and more win multipliers, but he also gets very lucky with additional free spins. In no time at all his initial 6 free spins have sky-rocketed to 18. Using just 3 of his 18 free spins, David is able to fill the grid with winning clusters for a €1,775 win. The best, however, is yet to come as once the board is filled during the bonus round players are awarded 25x their bet size for any remaining free spins. Having used only 3 of 18 David's win is boosted to €3,650 as he collects €125 for each of the 15 free spins he had left over. Cue plenty of excited cries of "GET PAAAAIIID!" from the bearded button-presser.
Clip 2: Miikapekka – Viking Wilds (Iron Dog Studio)
Finnish streamer Miikapekka is next up playing €2 spins on Iron Dog Studio's Viking Wilds. Having secured 16 free spins after triggering the bonus round with 3 expanded reels, Miikapekka begins a lengthy round of winning tumbles. Within one free spin the final two reels had expanded, awarding another two free spins and expanding the ways to win from 2,000 to 3,125 for the remainder of the round. By the end of the free spins the win multiplier has raised to 9x and Miikapekka's total bonus round winnings were €996, representing a 448x win.
Clip 3: Jamjarboy – The Grand (Quickspin)
Our third clip features Casinoground's own Jamjarboy playing Quickspin's March release, the Golden Age of Hollywood inspired slot, The Grand.
Playing at just €0.40 a spin there's no need to wait for a bonus round in this clip as a huge win drops during the base game. With the highest paying symbol littering rows 1, 2, 5, and 6 the game's random Wild feature triggers. This feature spreads 4-8 wilds randomly across the board. In this instance 2 Wilds appear on both reels 3 and 4, whilst another 2 fill the remaining non-premium symbol slots on reel 6. Despite the board now dripping with premium symbols Jamjarboy doesn't seem to realise he's in for a big payday. However, in total this single base game spin resulted in a win of €240.40 from a €0.40 bet, representing a 601x score. Once the size of his win becomes apparent, the young streamer's face is a picture as he springs from his chair to celebrate.
Clip 4: DannyScoffer – Immortal Guild (Push Gaming)
Immortal Guild is Push Gaming's popular fantasy slot set in a forest kingdom, with plenty of swords, sorcery and surprises. It's DannyScoffer who is in for a nice surprise in our next clip as he wins big courtesy of the game's special collapsing symbols feature.
Immortal Guild has 3 premium symbols, all of which can trigger the collapsing symbol feature. If two or more of the same premium land vertically adjacent, the higher symbols collapse onto the lowest symbol. For each symbol which collapses a 1x multiplier is added to the lowest symbol. Also, after every collapse a respin is awarded with the multiplier symbols remaining sticky.
Having landed collapsing 'Mage' symbols on reels 1 and 3 Danny starts his respin with 2x multipliers on these reels. The respin brings two more collapsing symbols on reels 1 and 2 and one on reel 3, with single Mage symbols on reels 4 and 5. With a line of 5 Mages including 4x, 2x, and 3x multipliers, DannyScoffer's €1 bet turns into a €120 win. The next respin doesn't bring anymore collapsing symbols but Mage symbols do land on reels 2, 4, and 5 for additional full payline multiplier mayhem resulting in a €180 win. In total DannyScoffer reaped a 300x reward for his base game feature spin.
Clip 5: Spintwix – Extra Juicy (Pragmatic Play)
Our fifth clip features another popular Dutch streamer, Spintwix, as he takes on Pragmatic Play's colourful fruit explosion of a slot, Extra Juicy.
Playing for €7 a spin at Casumo, Spintwix earns 12 free spins after landing 3 diamonds and is off to the bonus round. Extra Juicy's free spins are unique in that a 1x multiplier is added every spin regardless of whether a win lands or not. Things are good from the get-go with a €350 win on bells landing on the second spin. More big wins follow, including a €539 win on plums. Unfortunately Spintwix just misses out on a free spin retrigger with that elusive 3rd diamond just missing reel 5. Nevertheless a €1,188.60 win for a 170x win is still pretty juicy.
Clip 6: LetsGiveItASpin – Scudamore's Super Stakes (NetEnt)
It wouldn't be a big wins video with an appearance from our very own LetsGiveItASpin, accompanied as ever by his able deputy CasinoReggie. Playing NetEnt's horse-racing slot, Scudamore's Super Stakes, LGIAS plays through a few dry spins before the random wild feature kicks in. When activated, the random wilds feature will drop a number of horseshoes onto the reels which will then transform into wild symbols. On this occasion a horseshoe is dropped on every reel in such a way that they create one of the 20 base game paylines. Furthermore, a natural wild landed on reel 3 which happened to create another full payline of wilds. Each wild line paid 100x the bet size, and with other wins on the board this SEK50 (€5) spin turned into a SEK11,350 (€1,135) takedown for a 227x win.
Clip 7: DannyScoffer – Wildchemy (Relax Gaming)
Once again forum member DannyScoffer makes an appearance in our video, this time playing Relax Gaming's March release, Wildchemy at €1 a spin.
Wildchemy takes place in a crazy alchemist's laboratory, full of arcane machinery, test tubes and magic potions. Danny makes his money in this clip from the free spins round. In Wildchemy you must collect at least 4 potion scatter symbols which awards 4 free spins. Any additional scatters landed add an additional 4 spins and as DannyScoffer landed 6 scatters he received 12 free spins in total.
During free spins three of the 4 corner symbols spaces on the 5×5 grid contain 'magic portals'. If at least 2 of the symbols which land in these portals are the same then they, and all other examples of this symbol will transform into wilds. Furthermore, during free spins, all wins are doubled. Finally, Wildchemy is a 'cascade win streak' slot and as such Danny is able to land multiple wins during his 12 free spins. In total his bonus round nets him €329.80 for a 330x win.
Clip 8: Slotspinner – Mystery Reels Megaways (Red Tiger)
To have a clips video without a Megaways slot would almost be as bad as a clips video without featuring Slotspinner! Thankfully both elements collide in our next clip as one of our favourite CG streamers tries his luck on Red Tiger's Mystery Reels Megaways over at Dunder Casino.
The action kicks off with Slotspinner, playing at €4 a spin, having just triggered 8 free spins which he quickly gambles up to 20 before starting his bonus round. It doesn't take long before he lands a nice winning streak with the cascading reels feature, with each new winning combo adding a win multiplier. On his 4th spin Slotspinner builds his multiplier up to 7x and also lands a 5 free spins retrigger. More big wins follow including a €288 haul for full lines of melons with a 10x multiplier and €240 for 3 red sevens with a 12x multiplier. Then it's time for things to really take off as Slotspinner hits his second lengthy win streak in which he lands a ton of grapes and stars on his way to a €1,654 streak win. He also manages to land another 3 scatters for a further 5 free spins! With his win already up to €2,500, Slotspinner treats his captive audience to some quality dance moves as he celebrates success. Before the round ends Slotspinner lands two more big wins of €326 and €448 as the multiplier moves up to a tasty 26x.
In total our Megaways hero takes away €3,341.20 from his €4 stake, representing an 835x win.
Clip 9: Boulder – The Final Countdown (Big Time Gaming)
Our final clip of the compilation may not be the biggest in terms of stakes of cash winnings, but in terms of ROI it is by far the most impressive.
Playing at just €0.40 a spin Boulder has already found success after triggering the bonus round and playing "The Countdown" free spins. When we join the action Boulder has already upgraded from the 2×2 roaming wild to a 3×3 roaming wild which acts as a 27x win multiplier. With 2 spins remaining Boulder lands another Final Countdown scatter which is enough to increase the roaming wild to a massive 4×4 wild which creates a 256x win multiplier. Having earned another extra free spins with the upgrade, Boulder can just sit back and watch as his final 4 spins all bring in healthy 3-figure wins. In total Boulder earned €864.80 from his free spins, representing a whopping 2,162x his initial stake!
Share with friends on
Email