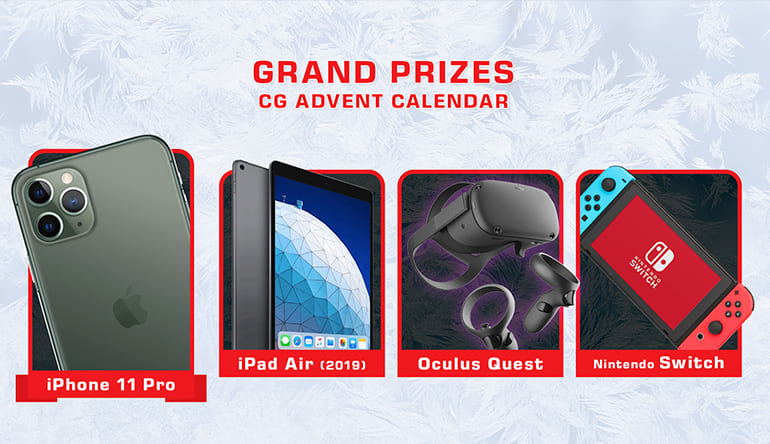 CasinoGrounds Advent Calendar Winners Announcement 2019
Season Greetings!
After a few weeks packed full of fun and excitement, the Christmas period is drawing towards the end which can only mean one thing. It's time to reveal the CasinoGrounds Advent Calendar winner of 2019!
With days packed full of quiz's, slot the differences, guess the streamer and much more, we would first like to thank everyone who participated. Today is the day that we announce who the lucky winners are of the iPad Air, Nintendo Switch, iPhone 11 and Oculus Quest.
For our runners up, you will be receiving a Christmas CasinoGrounds sweater. This means you should also count yourselves lucky, as we thought they would never arrive due to them going on one heck of a journey and taking a detour through Morroco! Luckily the sweaters are so ugly, Morroco kicked them out the country and sent them on to us here in Malta!
Winners announcement
On December 26th 2019, we announced the four lucky winners of the CasinoGrounds Advent Calendar. The winners were announced and drawn live on LETSGIVEITASPIN stream, however, if you did not turn in to find out then do not worry.
The four lucky winners this Christmas were;
JollyBhoyJohn7 – Nintendo Switch
Katiecollins153 – Oculus Quest
Ville M Apple – iPad
OnAirJannick – Apple iPhone 11
We would like to thank everyone who participated in the advent calendar and we hope you all had great fun doing so. The winners will also be announced in our forum.
Until next year, we hope you have a great Christmas period and a Happy New Year!
What's Next? – CasinoGrounds Awards 2019
With the year drawing to an end and 2020 just around the corner, CasinoGrounds will be holding an awards ceremony for the best slots, casinos and game providers of 2019. We want to hear from all of you so make sure to stay tuned and get your nominations in!
Share with friends on
Email