Side Bet City by Evolution Gaming
Evolution Gaming's latest Table Game Show, Side Bet City is an electrifying game that can give you the buzz you need. The easiest possible introduction to Poker for new players, also frequented by Experienced Poker Players who understand the game. The bright neon lights and Vegas-like feel is the simplest and fastest poker variant to hit the Online Gambling Market. This game offers huge payouts up to 1000x! So take your seat, go with your gut, and enjoy the show.
Understanding Poker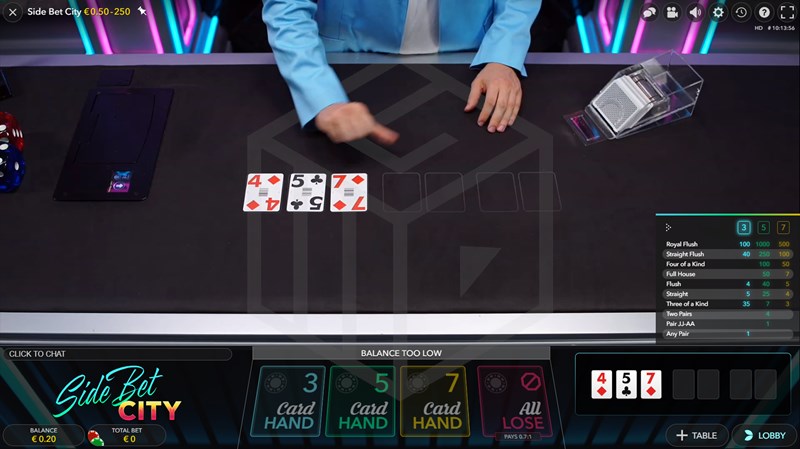 Before we get into how to win on Side Bet City, here's a quick introduction to Poker for those of you who aren't very familiar with this game. 2 or more cards in a 52 cards deck, are used to make a "hand". The cards in Poker are valued like 2,3,4,5,6,7,8,9,10,J,Q,K,A.
The hands are:
Pairs: Having 2 of the same value cards.
2 pairs: Having 2 sets of pairs.
Three of a Kind: Having 3 same value cards.
Full House: A combination of 2 sets of hands: Three of a kind and a Pair. For eg: AAAKK or 555AA.
Four of a Kind: Having all 4 value cards in a 52 card deck.
Straight: A combination of 5 cards of simultaneous value. For eg: A2345 or 78910.
Flush: A combination of 5 cards of the same suit. Clubs, Spades, Hearts or Diamonds.
Straight Flush: A combination of 5 cards that simultaneously form a straight, but are also the same suit. For eg: A2345 all of Diamonds.
Royal Flush: Having a straight from 10 to A, all of the same suit. Like 10 J Q K A all Diamonds.
Please Note: These hands are not in order of rarity or probability. These will be explained later on in this guide.
Now that you have a fair idea of how Poker is played, let's get into Side Bet City.
How to Win at Side Bet City?
Each player has 4 spots to bet on: 3-Card Hand, 5-Card Hand, 7-Card Hand and All Lose.
There are no decisions required by the player once they have placed their bets. Remember folks, this game is not the same as 3 card Poker or Hold Em Poker Live Table Games.
An unlimited number of players play simultaneously against a paytable, NOT THE DEALER.
The dealer deals 7 cards face up, from a freshly shuffled deck of 52 cards, with the winning card combinations being based on all the usual poker hands as mentioned above.
However for pairs to pay in this game, only JJ QQ KK and AA count as pairs, except in the 3-Card Hand. The lower pairs are disregarded in 5-Card Hand and Pairs of JJ and above are disregarded in 7-Card Hand.
In a nutshell:
3 Card Hand: Where your result is determined by the first three cards from the deck.
5 Card Hand: Where your result is determined by the first 5 cards dealt.
7 Card Hand: Where the best 5 card hand is determined from all 7 cards dealt.
All Lose: Where you're betting on there being no winning hand.
Payouts Structure
Here we will look in-depth to how and what this game pays out.
3-Card Hand
Royal Flush
100x
Straight Flush
40x
Flush
4x
Straight
5x
Three Of A Kind
35x
Any Pair
1x
There are no payouts for Four Of A Kind, Full House or Two pairs because these hands are not possible to be made with only 3 cards. They require 4-5cards.
5-Card Hand
Royal Flush
1000x
Straight Flush
250x
Four Of A Kind
100x
Full House
50x
Flush
40x
Straight
25x
Three Of A Kind
7x
Two Pairs
4x
Pair JJ-AA
1x
There are no payouts for Any Pair, as pairs below JJ are not paid out.
7-Card Hand
Royal Flush
500x
Straight Flush
100x
Four Of A Kind
50x
Full House
7x
Flush
5x
Straight
4x
Three Of A Kind
3x
In 7-Card Hand, Any Pair and Two Pairs are not paid out.
How should I bet?
Let's examine the published RTPs for this game.
3 Card RTP is 96.69%.
5 Card RTP is 95.21%.
7 Card RTP is 94.34%.
All Lose RTP is 96.29%.
Two things are pretty clear. Firstly, the game does not have a good overall return to the players, well below Blackjack at 99%.
Secondly, if you're betting, the 3 Card Hand and the All Loose spots are the best to play.
Should I bet on All Options?
Unless you've got a lot of money, we highly suggest not to. You may marginally increase your chances of winning something but you would be picking up crumbs for wins, compared to your overall bet. Unless you hit a big win early on, you're very likely to lose our Bankroll very quickly.
The Insurance Bet: All Lose
Statistically, the All Lose spot has an RTP of 96.29%, which is marginally lower than the 3 Card RTP. We call this the Insurance Bet.
In the worst-case scenario, if the 3 Card doesn't win, you tend to lose much lesser than you normally would. If you're playing one of the other spots and you lose, you're in the negative only by 30% ( assuming you're betting the same on each spot).
Should I keep betting on 5 Card Hand because it has huge payouts?
While the 5 Card Spot pays out the most on all hands except three of a kind, the RTP of 95.21% suggests that in the long run, this is the worst place to bet. That being said, we occasionally bet on 5 Card Hand, among other spots. When the payout hits, it goes HUGE.
The Winning Strategy for Side Bet City
In reality, there is no such strategy that guarantees wins on this game. But looking at RTP and statistics, we can tell you which spots and combinations tend to win more often than the others.
If you're someone that likes to play aggressive, we recommend betting on 3 Card and 5 Card hands.
If you'd rather like to session your bankroll and ease into things, you should be betting on 3 Card hand and All Lose.
Our very own, LetsGiveItASpin, tried Side Bet City on 25/06/2019 while streaming his usual Table Games Tuesday. He didn't seem to enjoy the game that much. He wasn't lucky enough to have a full-fledged guide like this explaining each and every detail that should be known before taking a crack at this game.
Not only to increase your chances of winning but to understand the game and not have to wait for your screen to tell you if you've won. This also creates some excitement, with you rooting for the next card to be the one that you need to win that massive 1000x payout.
So take a good look at this guide once again, strap on your 80's funk shoes, and open up Side Bet City at LeoVegas. We hope you have a blast and win tons of money!
Let us know in the forum what you guys think of Side Bet City. Have you tried it yet? Are you planning on trying it?