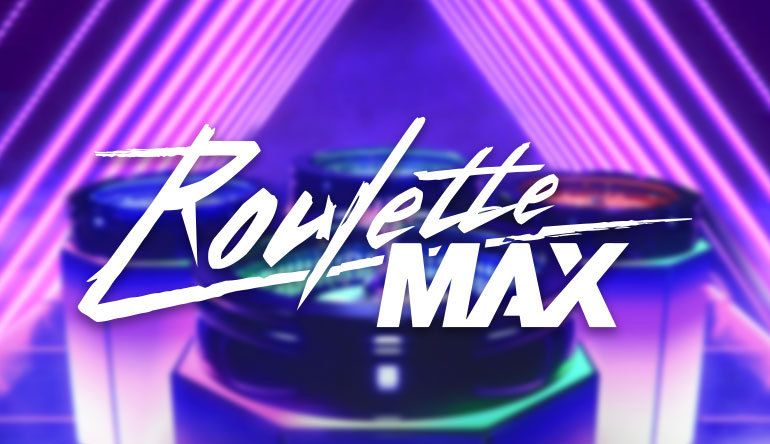 Netent's Roulette MAX
Roulette MAX
NetEnt has introduced a new multi-wheel Roulette scramble game to their collection and we are excited to check it out. Roulette MAX comes with an RTP of 97.05%.
As a result of the additional three new wheels which have been added to the casino game, you can, of course, expect to find new bet types available to you. Roulette MAX allows you to make Combination Bets as well as Spread Bets, providing players with a chance to win up to 5000x on every round using the smallest bet allowed.
How To play
Unlike normal Roulette where you play on 1 wheel, Roulette MAX is played on 1 main wheel, as well as 3 additional reels.
In Roulette MAX you can make Unique Bets. Unique Bets consist of; Combination Bets, Spread Bets, MAX Bets, Column / Colour Bets.
Combination Bets
If you place a Combination Bet this means a payout will be awarded when 2 or more wheels in the same round display the same result repeated on more than one wheel.
Spread Bets
Spread Bets means that players can bet on what they think the total sum of all the wheels will result too. You can place a bet on six different positions including: 0-17, 18-36, 37-82, 83-96, 91-119, or 120-144.
Column Bets
To place a Column Bet you are required to place bets on 12 numbers in a row. Depending on which column you opt to bet on, different multipliers will be awarded depending if 2,3,4 numbers from the wheels match the numbers in your column.
Colour Bets
Colour Bets are simply where you bet on a black or red number. There are separate outside red or black bets which can be placed and payout either 3,4 of the results displayed by the wheels.
MAX Bets
A MAX bet may come across the same as a Straight bet however they are different. A MAX Bet will payout if any of the results appear repeated on 2 or more of the wheels. If you happen to land 2 wheels displaying the same number and the remaining 2 wheels match, then there is an additional payout awarded. All payouts can be found displayed in the pay table below.
RTP, Winning chance and bets
The table below displays the different Bets and Payouts you can receive from Roulette MAX.
| | | | |
| --- | --- | --- | --- |
| Bets | Bets | Payouts | RTP |
| Main Bet | Straight - All 4 Wheels | 4999:1 | 97.05% |
| Main Bet | Straight - Any 3 Wheels | 499:1 | 97.05% |
| Main Bet | Straight - Any 2 Wheels | 49:1 | 97.05% |
| Main Bet | Straight - Main Wheel | 28:1 | 97.05% |
| Line Bet (Main Wheel Only) | Straight - All 4 Wheels | 4999:1 | 94.74% |
| Line Bet (Main Wheel Only) | Straight - Any 3 Wheels | 499:1 | 94.74% |
| Line Bet (Main Wheel Only) | Straight - Any 2 Wheels | 49:1 | 94.74% |
| Line Bet (Main Wheel Only) | Straight - Main Wheel | 28:1 | 94.74% |
| Column bet | Column: 4 numbers in bet column | 11:1 | 97,41% |
| Column bet | Column: 3 numbers in bet column | 5:1 | 97,41% |
| Column bet | 5 | 0:1 (Push) | 97,41% |
| The MAX bet | Any number on 4 wheels | 499:1 | 91,96% |
| The MAX bet | Any number on 3 wheels | 49:1 | 91,96% |
| The MAX bet | Any number on 2 wheels | 4:1 | 91,96% |
| The MAX bet | Any number on 2 wheels, another number on 2 wheels | 9:1 | 91,96% |
| Color bet - Red | 4 reds | 3:1 | 93.65% |
| Color bet - Red | 3 reds | 2:1 | 93.65% |
| Color bet - Black | 4 blacks | 3:1 | 93.65% |
| Color bet - Black | 3 blacks | 2:1 | 93.65% |
| Spread bets - 1 | 0-17 | 299:1 | 95.80% |
| Spread bets - 2 | 18-36 | 19:1 | 91.14% |
| Spread bets - 3 | 37-82 | 1:2 | 95.05% |
| Spread bets - 4 | 83-96 | 4:1 | 93.17% |
| Spread bets - 5 | 97-119 | 7:1 | 96.22% |
| Spread bets - 6 | 120-144 | 84:1 | 92.86% |
Share with friends on
Email