Evolution Gaming presents Live Speed Blackjack, a Blackjack table game where it's all about speed. While this game will be following the rules of a classic blackjack game, there is of course an added twist to it all. This version of Blackjack is a much faster game, perfect for any players out there who are looking for the extra adrenalin kick. So if you happen to be looking for a round of Blackjack happening at a seven seat table, then this is the perfect choice for you. There are some things that you definitely will have to get used to, such as not having to wait for other players to make a decision before the game can continue. As cards will be dealt to the quickest players first, this will of course reduce the waiting time to a minimum.
Features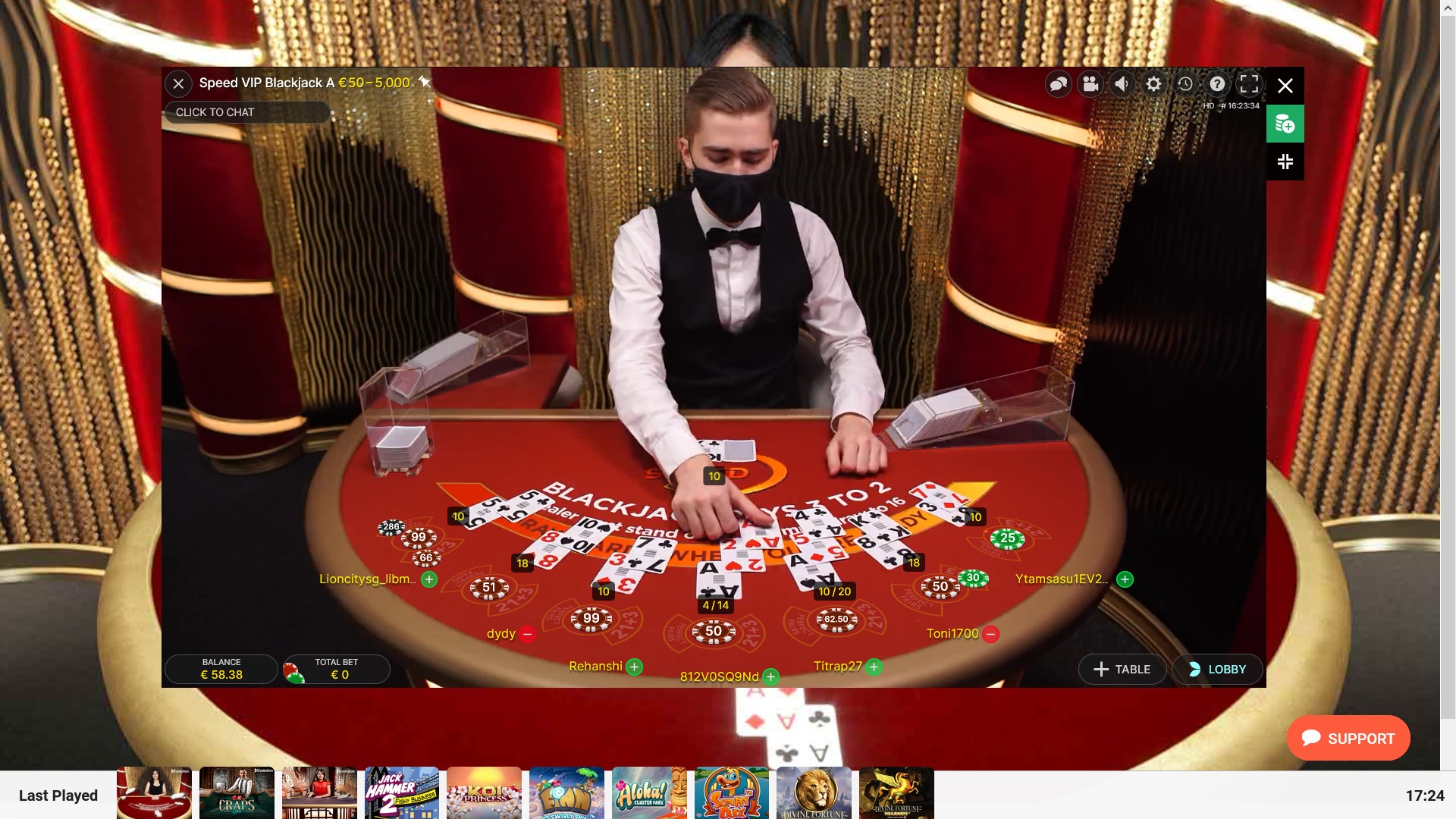 Betting times reduced by 7 seconds for speedier gameplay
Faster players are dealt with first
After the initial 2 cards are dealt, the decision timer will start
Up to 30% quicker than regular Blackjack
1 seat for each player
Auto Hit on hands of 11 or lower should you time out
Auto Stand on hands with 12 or more should you time out
Same RTP as regular Blackjack at 99.29%
Side Bets RTP is 95.90 % for Perfect Pairs and 96.20% for 21+3
Odds & Payouts
Payouts Perfect Pairs:
Blackjack pays 3:2
Winning hand pays 1:1
Perfect Pair pays 25:1
Coloured Pair pays 12:1
Mixed Pair pays 6:1
21+3:
Suited Trips pays 100:1
Straight Flush pays 40:1
Three of a Kind 30:1
Straight 10:1
Flush 5:1
Return to Player percentages:
Blackjack 99.29%
Perfect Pairs Bet 95.90%
21+3 Bet 96.03%
Rules
The rules of Speed Blackjack are pretty much identical to any regular Blackjack game. Speed Blackjack Live only has one twist to it, this being that the players who are first to decide what to do with their cards will be dealt their next card first. Other than that, the game will follow the same rules and same procedures as a standard Blackjack game.
Game rules:
Every Speed Blackjack table hosts 7 seats
The dealer gets two cards
Blackjack bet pays 3:2
The dealer stands on all 17s
There is only one sit for every player
Splits are allowed and will be dealt like all other hands
How To Play
The game gets started really once the first two cards have been dealt. Once this is done, the first player to decide on what to do will be dealt his/her next card. After this, the dealer will continue to follow a random order which is simply based on the speed of the players around the table, the quicker you are, the faster you get your next card. The dealer will then have to wait until all players have finished their game before seeing his/her own cards.
Hit, Split or Double are the choices you will have available once the first two cards have been dealt. These are the same options you will have available to you in a standard Blackjack game; however, you will have to act as quickly as possible. You will have 7 seconds to make a decision here, if you don't make it on time the system will make a decision for you.
Hit – Get another card
Split – Split a pair of cards with the same value, making separate decisions depending on the cards that will be dealt next
Double – Double your bet and receive another card
Stand – You wish to not receive another card
Then you also have the side bets, which usually pay pretty well, but the odds on these bets will be pretty low. Not the best choice if you are playing on a budget.
21+3 – This hand is made from the dealer's face-up card and the player's first two cards. To win, they will have to form a valid poker hand.
Perfect Pairs – The players first two cards will need to form a pair. The pair created will then determine the type of payout that is received.
Bet Behind – Here you will be placing a bet behind another player on the table. Follow the players' actions.