Live Speed Baccarat by Evolution Gaming is the super-speedy alternative to the usual Baccarat games you find in online casinos. How speedy is it? While any standard Baccarat game will usually last approximately 48 seconds, the Speed Baccarat round will be complete in just 27 seconds. As well as Roulette and Blackjack, Baccarat is one of the three main games usually found on online casinos while also being a classic casino game that has been played for many, many years. What really makes Speed Baccarat stand out from the standard version, is of course the Speed, as all cards will be dealt facing up from the start.
Features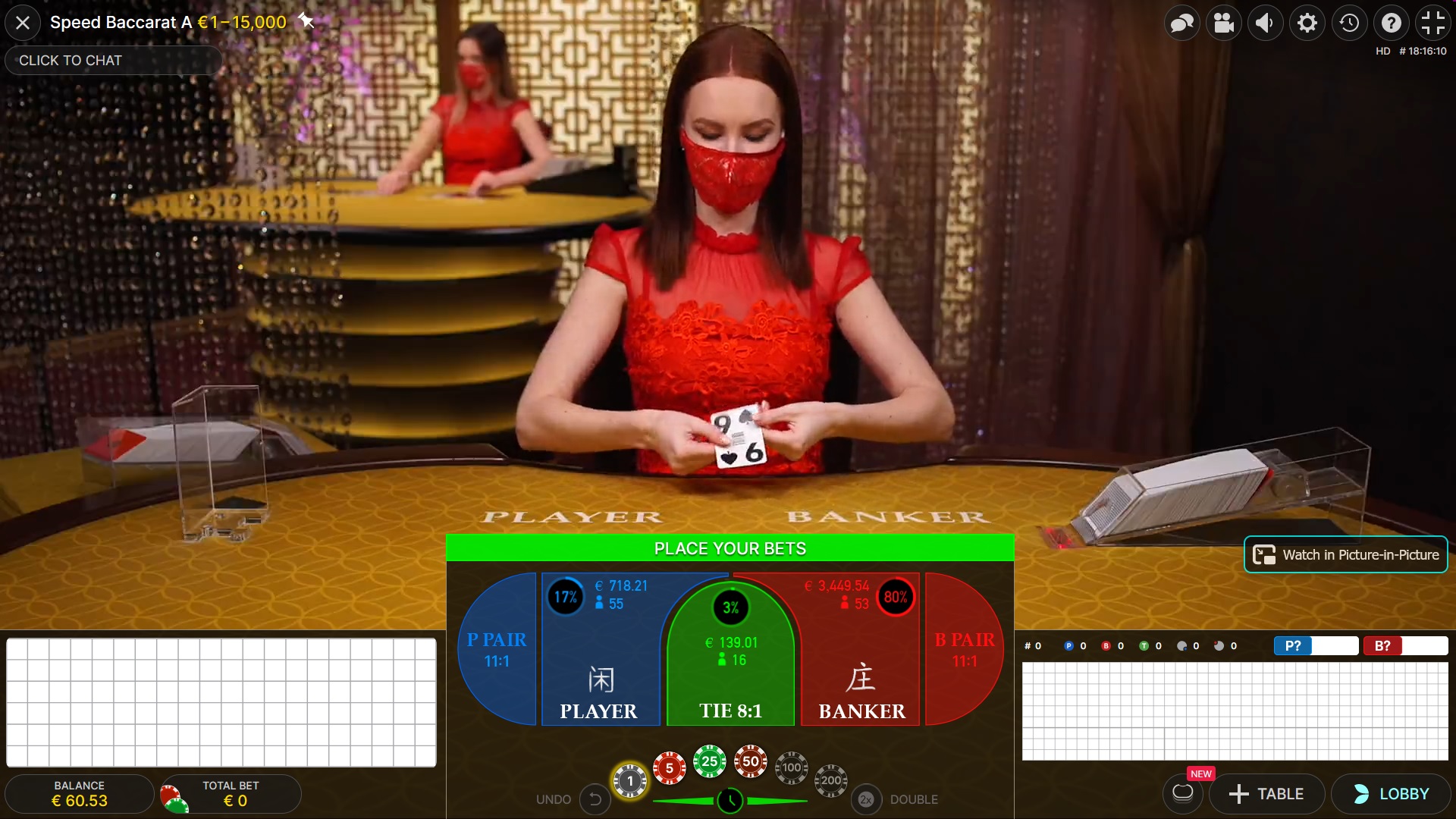 All cards are dealt face up
Game round lasts 27 seconds
Game is played with bets between €1 and €5 000
Allows players to bet on up to four distinct side bets
Bet options include: Either Pair, Perfect Pair – Two Pairs, Perfect Pair and Player or Banker Pair
RTP of 98.94%
Odds & Payouts
Return to Player percentages:
Player or Banker Pair – 89.64%
Perfect Pair – 91.95%
Either Pair – 86.29%
Player Bonus – 97.35%
Banker Bonus – 90.63%
Payouts:
Player bet: 1:1
Banker bet – 0.95:1
Tie bet – 8:1
Side Bet Payouts:
Player or Banker Pair – 11:1 payout
Perfect Pair – 25:1 payout
Perfect Pair – Two Pairs – 200:1
Either Pair – 5:1
Non-Natural hand wins by 9 points – 30:1
Non-Natural hand wins by 8 points – 10:1
Non-Natural hand wins by 7 points – 6:1
Non-Natural hand wins by 6 points – 4:1
Non-Natural hand wins by 5 points – 2:1
Non-Natural hand wins by 4 points – 1:1
How To Play
The game rules of Speed Baccarat are exactly the same as any standard Baccarat game found on live casinos, which you maybe already have tried. The goal here is to land a 3-card hand with the highest single digit value. This could be hands such as 7, 8 or 9. You will be able to bet in three ways, the Banker Bet will have you bet against your hand, the Player Bet will have you betting on your hand and the Tie Bet will have you betting on equal value hands.
In addition to the standard bets, there are also plenty of side bets, including Either Pair, Player and Banker Pair and the Perfect Pair.
Every round of the game will start off with a betting round, during the 12 second provided you will have to place your wanted wager on the bet you wish to play with. When the time is out, the dealer will then draw two cards for both the banker and the players around the table. Since this is Speed Baccarat, all the cards will be drawn face up right from the start, saving some time. The side coming closest to an eight or a nine will win that round.
Should neither of the sides have won after these two initial cards, the game will continue to the next round. Here, you as the player will draw your third card first, which you only will do if the hand value is five or less. Depending on your (the players) third card and the bankers hand value, the banker will then draw the third card.
Betting Round
Place your bet by clicking and dragging on the desired chips you wish to bet over to the betting zones. This will have to be done within the 12 seconds you get to place your bets. Starting from your second bet and onwards, you will be able to opt for a "re-bet", to speed things up even further. While the betting round is going on you will also be able to see what other players around the table are wagering on, helpful if you should be unsure of where to place your own bets.